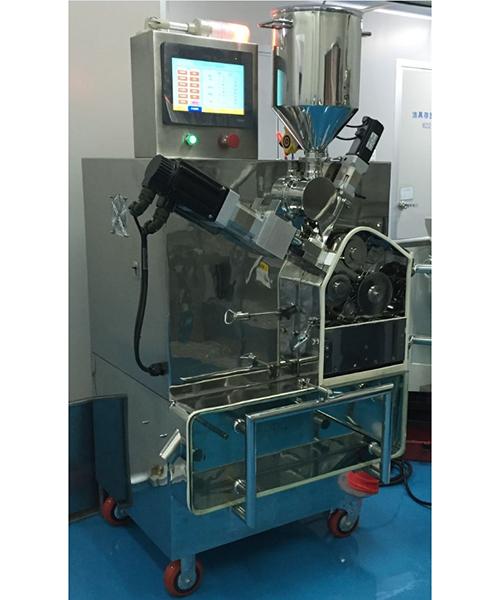 Application
Drugs: pharmaceutical preparations, Chinese medicine, crude drugs
Chemical products: fuel, soda ash, chemical fertilizer, detergents
Fine chemicals industries, catalysts and other products, such as pet medication and dry powder particles
Main Technical Parameters
| | | | | | | |
| --- | --- | --- | --- | --- | --- | --- |
| ITEM | UNIT | GLX-5 | GLX-15 | GLX-50 | GLX-150 | GLX-300 |
| Tableting capacity | Kg/h | 1~5 | <15 | <50 | <150 | <300 |
| Granulation capacity | Kg/h | 0.5~3 | <10 | <15 | <100 | <200 |
| Pinch roller rotation speed | r.p.m | 3~20 | 3~15 | 3~30 | 3~30 | 3~30 |
| Rod rotation speed | r.p.m | 10~50 | 20~100 | 20~200 | 20~175 | 20~150 |
| Straightening rotation speed | r.p.m | 200~700 | 5~70 | 5~130 | 5~110 | 5~120 |
| Grain specification | mesh/φmm | 10~80/2~0.18 | 10~80/2~0.18 | 10~80/2~0.18 | 10~80/2~0.18 | 10~80/2~0.18 |
| Pinch roller pressure | KN | 68 | 98 | 98 | 330 | 600 |
| Air source pressure | Mpa | 0.4~0.7 | 0.4~0.7 | 0.4~0.7 | 0.4~0.7 | 0.4~0.7 |
| Air consumption | | 0.05 | 1.5 | 2 | 4 | 5 |
| Main machine power | kw | 2.5 | 8 | 8 | 14 | 25 |
| Auxiliary machine power | kw | | 3 | 3 | 3.5 | 5 |
| Main machine weight | kg | 800 | 800 | 800 | 2000 | 2500 |
| Overall dimension | Mm L*W*H | 1160*550*1250 | 850*850*1800 | 850*850*1800 | 1450*850*2100 | 1600*1600*2100 |
Advantages:
①The environmentally friendly granulation process saves energy, is pollution free and requires no wetting agents (solvents, alcohol, water or starch).
② Explosion risks and other environmental problems caused by gas exhaust pollution are solved
③The drying process saves a large amount of energy when compared to other traditional equipment.
④With the development of new adhesives for dry granulation and industrial production, the cost has been greatly reduced. The successful development of the "GMP" GL, GLX series automatic dry granulating machine has achieved. Dry granulation technology is getting more and more popular.
Main Structure and Function
1. Body
The body is welded by steel plates using coated stainless steel. The main body plays a support role to different parts, including the transmission.
2. Transmission case
The transmission box consists of a two axis output. The lower shaft is a fixed axis and is equipped with an eccentric device on upper shaft. Both the power outputs rotate at the same time for the next shift action in order to regulate the thickness of the sheet.
3. The cylinder
The cylinder, and the computer monitor are controlled using German components on an eccentric shaft.
4. Pneumatic vacuum feeding machine
The pneumatic vacuum feeding machine is comprised of the suction pipe, body, filter, valve, vacuum generator, material level sensor and other components. It is controlled by the host computer in order to complete automatic feeding.
5. Feeder
Inclined feeding of the twin screw, drive and pressure rod is controlled using a servo motor imported from Germany and PLC electronic monitoring, and also features an interlock reaction with roller pressure.
6. The press wheel
The press wheel is made of high quality 40Cr stainless steel. It is easy to assemble and unload. The surface is treated using a special process, and is highly wear resistant.
7. The whole grain.
The granulation system is one of our patented products, and is comprised of the special structure with a two roller rotation, and extrusion of the particles is done through two spherical screens, which allows whole grain fine particles to fall below the vibration sieve for sieving.
8. PLC computer control system
Schneider is the brand used for our touch screen for the man to machine interface control, and a Schneider PLC is the center of machine control and data processing. The PLC can save up to 10 prescriptions at a time, and is easy to use at any time, simply by setting the PLC automatic control for the powder amount requirements.
9. Pneumatic system
The pneumatic system is divided into three units:
① Control pneumatic vacuum feeding
② Control press wheel
③ Control screen
10. Water cooling system
Because the powder is pressed under high pressure, more heat is often produced. The heat must be removed in time, or else it will adversely affect the drugs and process. The water Colling system directly cools using a cooling roller surface to remove any lingering heat.