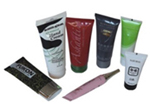 This NF-100A fully automatic tube filling and sealing machine is applicable to processing the plastic and aluminum tubes.
Detailed Information
Operation speed: 80pcs/min.
Filling volume: 5-350ml
Filling precision: ≤±0.5%
Suitable tube length: 50-240mm
Suitable tube diameter: Φ10-60mm
Standard configuration: Obliquely hanging tube feeding storehouse functioning automatic arrangement of tubes.
Optional configuration
1. External refrigerator
2. Tube cleaning device in blowing and sucking way
3. Heat preservation device for the barrel with interlining
4. Stirring device inside the barrel
5. Large feeding device (external floor-mounted synchronous tube feeding machine)
6. Sealing devices in special form like waved sealing device, circular arc sealing device and T-shaped punched hole sealing device, etc.
7. Multi-color filling system
8. Nitrogen filling device used before and after filling
9. Material feeding pump with automatic control
10. Finished tube conveyor
We provide this NF-100A fully automatic tube filling and sealing machine with filling volume of 5-350ml. FEIYUN, as a manufacturer with more than 30 years of experience, offers a variety of pharmaceutical machinery, including medical high purity nitrogen generator, capsule polisher, medicine pack blister packaging machine, capsule filling machine, tablet coating machine, and many others. If you are looking for quality pharmaceutical equipment meets cGMP standards, please contact us and we will be your good choice.